The best things to do in Hong Kong are so varied it often takes more than one trip to fit them all in. From early morning hikes and temple visits, to frantic shopping raids, unique dining experiences and the excitement of theme park rides, betting at the racing track, and partying the night away in downtown - Hong Kong's best attractions are suitable for all seasons and its pretty much guaranteed everyone will find a niche to fall in love with. Hong Kong is an endlessly fascinating destination due to its rich history, its cultural diversity and for its many faces just waiting for you to discover.
The best of what to see and do in Hong Kong is listed below - but remember - this is just scratching the surface of the world's most visited city.
Interested in this tour? Book it here.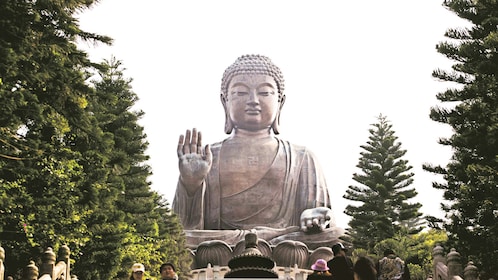 per traveler
Free cancellation
Book
If it's your first time in Hong Kong, head to the neighbourhood of shopping streets around Causeway Bay MRT Station to immerse yourself in Hong Kong's iconic street scenes – busy, bustling and always on the go.
The streets around Jardine's Crescent are packed throughout the day and night with Hong Kong's fashionable set, and it's the perfect place to acquaint yourself with the city. Get a first glimpse of the 'Ding Ding' trams rattling along Hennessey Road, with huge flashing billboards, street hawkers and flagship designer stores catching your attention at every turn. Read More...
Talk about getting high in Hong Kong: The Peak not only has tremendous views out over the harbour and neighbouring islands but it's also a gastronomic destination, a place of historical interest, and the Hong Kong attraction most popular with new visitors. Take the tram up to the top or hike your way to the top - and don't forget your camera! Read More...
The only Disneyland in the world built according to the rules of Feng Shui, the park consists of four themed lands similar to other Disneyland parks: Main Street, U.S.A., Fantasyland, Adventureland and Tomorrowland. The park features daily firework shows and has regular parades and even a live musical. Read More...
The world's tallest outdoors seated bronze Buddha, the Tian Tan, is a sight to behold and is located near Po Lin Monastery on Lantau Island. It was built to symbolise the harmonious relationship between man and nature, people and religion. A major centre of Buddhism in Hong Kong, the imposing image is also a popular tourist attraction. As well as the Big Buddha, there is a lovely walk past tea plantations and a beautifully maintained temple. Read More...
This seven-days-a-week market attracts visitors by the droves and no wonder: It's a veritable treasure trove and bargain-hunters from all over the world join in the fun of haggling with shopkeepers and stallholders. Bargain for brand-name clothing and accessories, or simply irresistible souvenirs, ornaments and other Oriental bric-a-brac in a riot of colours, scents and sights. Read More...
A busy and bustling market that will boggle the mind with its diversity. Temple Street Night Market ostensibly opens at 16:00 but it really gets going past dark, when it is a barrage of brightly lit stalls selling cheap goods with the emphasis on souvenirs, fashion, electronics, cheap arts and crafts and various other trinkets and cheap items direct from the factories in mainland China. Loads of snacks stalls and restaurants and a really incredibly cosmopolitan crowd add the experience. Read More...
Lan Kwai Fong is an L-shaped, cobble-stoned lane surrounded by Central's cluster of skyscrapers. It takes up just a crowded two-block stretch but this small area is the liveliest and most raucous night time party vibes in Hong Kong. Revelers head here for the area's world-famous collection of over 100 bars, clubs and restaurants which keep going deep into the early morning, and on weekends there is even a mass street party! Read More...
The Star Ferry is one of the finest attractions in Hong Kong for getting a sense of the living history that is present in Hong Kong even today, and is a symbol of the city. Founded in 1888, there are actually two crossings across the bay, but the most popular is from Central Ferry Pier to Kowloon. It takes around five minutes and costs HK$2.50 on weekdays and HK$3.40 on weekends and public holidays for adults. Tickets for children cost HK$1.50-2.10. Ferries leave every 10-15 minutes, depending on the time of day. Read More...
Lounging at a rooftop bar in Hong Kong is definitely one of the best ways to spend your evenings, soaking up the incredible cityscape while sipping on a cocktail in the cooling breeze. What's more, there are rooftop bars and restaurants to enjoy spread out all over the city – on both sides of Victoria Harbour – so you are never that far away from getting a privileged vantage point over Hong Kong. Read More...
The Avenue of Stars is a promenade overlooking Victoria Bay in Kowloon. It's just a short walk from Tsim Sha Tsui MTR Station, and is popular throughout the day and night for soaking up the sweeping scene of Hong Kong Island, just across the bay. Dotted along the walkway, you'll see 100 stars dedicated to legends of the Hong Kong film industry, much like the Hollywood Walk of Fame.
This waterfront promenade also happens to be one of the best spots for watching the famous light show called the Symphony of Lights. The nightly laser show starts at 20:00 and, although it does look a little dated now, it's set against one of the most incredible cityscapes in the world. The narration is in English on Mondays, Wednesdays and Fridays. Read More...
Rate This Place:
( votes)