The best temples in Hong Kong have been gathered from across the city state and a visit to any of these religious monuments will surely give visitors a connection to the deep-rooted customs of local Hong Kongese. Temples in Hong Kong are dedicated to different religions: Buddhist and Taoist traditions are both found here, along with Confucian shrines, and temples are sometimes dedicated to more than one deity.
Due to the generations of immigration to this small island there are religious buildings of practically every faith dotted all over Hong Kong, but here we will just focus on our favourite Chinese temples as these are the ones most visitors want to visit. The ornate facades, mythical dragon sculptures, smoke-laden air that hangs heavy in the sunshine – everyone should visit a temple in Hong Kong and these are the five best to visit.
Interested in this tour? Book it here.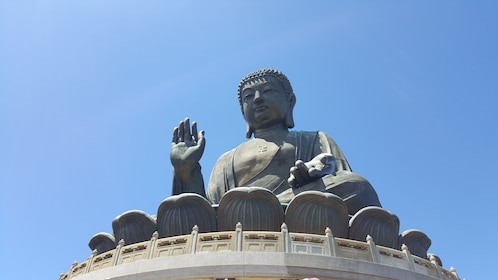 per adult
Free cancellation
Book
1
Po Lin Monastery (Big Buddha)
Lantau Island
This Hong Kong temple is famed for the Tan Tien Buddha, a huge bronze Buddha image which can be seen for miles around. Po Lin Monastery was originally opened to the public in 1970 but became a mainstay on many visitors' tourist itineraries after the completion of the Big Buddha in 1993. Po Lin Monastery is actually home to three big golden Buddha statues as well as the 34-metre high, 250-ton bronze Buddha statue. There is a Wisdom Path leading up to the statues as well as several restaurants, some of which are run by the monks themselves.
Opening Hours: 09:00 – 18:00
Location: Po Lin Monastery on Ngong Ping Plateau, Tung Chung Town, Lantau Island
Wong Tai Sin Temple is the most popular temple in Hong Kong and is a huge space with plenty to see. The 18,000sqm temple is located in Wong Tai Sin, Kowloon and is dedicated to the three major religions in China – Taoism (Wong Tai Sin), Confucianism (Confucius) and Buddhism (Guanyin).
Besides the grand hall, main attractions included Three-Saint Hall, the Taoist temple and the Nine Dragons Wall. The main temple was built according to tradition Chinese architecture, which includes red pillars and a gold roof. There are booths that offer face reading, palm reading and fortune-telling inside the temple. Because this is such a popular tourist attraction be aware of fake monks outside the temple asking for a donation. No flash photography and video recording is allowed. Read More...
Opening Hours: Daily from 07:00 – 17:30
Address: 2, Chuk Yuen Village, Wong Tai Sin, Kowloon
Tel: +852 2327 8141
Man Mo Temple is the oldest and certainly one of the most revered temples in Hong Kong. The smell of incense and the lingering smoke creates a mystical ambiance which most people are captivated by. Built in 1847, it is named after its two principal deities: Man, the god of literature, who is dressed in red and holds a calligraphy brush; and Mo, the god of war, wearing a green robe and holding a sword. Read More...
Opening Hours: Daily 08:00 – 18:00
Address: 126 Hollywood Rd, Sheung Wan, Hong Kong
Tel: +852 2540 0350
4
Ten Thousand Buddha's Monastery
Sha Tin (New Territories)
The Ten Thousand Buddhas Monastery (called Man Fat Tsz in Cantonese) is a fascinating Buddhist temple located in Sha Tin in the New Territories. Home to a sprawling collection of Buddha images spread out over 8 hectares of land, this is one of Hong Kong's most famous Buddhist temples and popular tourist attractions. The temple was built by a devout Buddhist monk called the Reverend Yuet Kai in 1957 with the help of his followers. Despite the name, there is now estimated to be over 13,000 Buddha images on display here ranging in pose, style, material and size. They range from small figurines to huge brass images lining the temple gardens. There is also a tall pagoda to enjoy. The result is very impressive and a testament to the founder of the temple. Note, there are no practicing monks at The Ten Thousand Buddhas Monastery in Hong Kong; it is run by volunteers.
Opening Hours: Daily from 09:00 – 17:30
Location: Sha Tin Town, on the eastern part of the New Territories
5
Pak Tai Temple
Cheung Chau Island
Bright and colourful, Pak Tai Temple on Cheung Chau Island dates back to the 18th century when an image of Pak Tai, a Chinese God especially revered by fishermen, was brought to the tiny island off Hong Kong's southern shore and it helped to save the population from a plague that swept thought much of the Pearl River Delta. Located close to the pier which brings in hordes of weekenders from Hong Kong, a visit to Pak Tai Temple in Cheung Chau is a pleasant addition to the resort island's beautiful beaches and outdoor attractions.
This temple is most popular during the Bun Festival which takes place in the fourth lunar month each year, usually in April or May. Thousands of people descend on the small island of Cheung Chau Island and enjoy lion dancing, a cacophony of percussion drums a colourful parade… and loads of buns and baked snacks.
Opening Hours: 09:00 - 18:00
Location: Next to Cheung Chau Ferry Pier
Rate This Place:
( votes)