The Peak Hong Kong is the highest hill on Hong Kong Island, offering panoramic views of Hong Kong and the South China Sea. Standing at 552 metres above sea level, it has plenty of vantage points, restaurants and family-friendly attractions, along with a historical tram that takes you to the summit.
The Peak also has plenty of open spaces where you can enjoy picnics and scenic walks with impressive views. The vista is also enhanced by nature trails under the canopy of trees and the colonial ambiance of Victoria Peak Garden.
Interested in this tour? Book it here.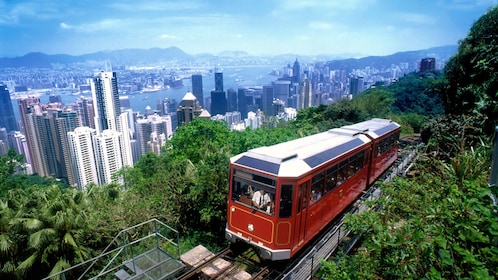 per adult
Free cancellation
Book
Peak Tram
The fastest way to get to The Peak is by a scenic 7-minute ride on the historic Peak Tram, which dates back to 1888. Return fares cost around HK$52 per adult and HK$23 per child. If you're planning to visit the Sky Terrace 428, opt for the Peak Tram Sky Pass which costs HK$99 per adult and HK$47 per child.
A must-visit is the Peak Tram Historical Gallery, where you can learn about life in Hong Kong back in the 19th and 20th centuries. The museum has over 200 memorabilia spread out across 15 exhibition halls. The gallery also features a replica of the first generation Peak Tram carriage and the 1926 Haulage Room.
The Peak Tower and Sky Terrace 428
The Peak Tower stands on Victoria Peak at 396 metres above sea level – its avant-garde design has been featured in many photographs and postcards in Hong Kong. You'll find a wide range of restaurants and shops, as well as an entertainment venue that's set against the backdrop of the city and surrounding islands.
One of the best spots for views of the cityscape and surrounding ocean is at Sky Terrace 428 (due to its height above sea level), a viewing platform on the top floor of The Peak Tower. Check out the modern skyscrapers dotting the Hong Kong Central Business District and Kowloon, as well as luxurious yachts and cruise ships at Victoria Harbour
The Peak Hong Kong
Opening Hours: Monday–Friday from 10am to 11pm, Saturday–Sunday from 8am to 11pm
Location: Hong Kong Island, Hong Kong
Tel: +852 2849 0668
Rate This Place:
( votes)