The view from The Peak will take your breath away… On a clear day, a simply stunning panorama can be viewed from the pinnacle of this landmark on Hong Kong Island. The Peak – Hong Kong's premier tourist spot, just under 500-metres high (around 1,085 feet above sea level) – is an ideal place to spend some quality time with family and friends.

The best vista is from the panoramic viewing platform called Sky Terrace 428 (due to its height above sea level) which offers 360 degree views of Hong Kong, Kowloon and Victoria Harbour in between. Located on the very top of The Peak, this vantage point really highlights the density of the countless skyscrapers shooting up into the sky on Hong Kong Island.
After enjoying the view from Sky Terrace 428, you might also enjoy a picnic on The Peak, where you will be serenaded by chirping birds and the gentle rustling of leaves. The vista is enhanced by nature trails under the canopy of trees and the colonial ambiance of Victoria Peak Garden.
Interested in this tour? Book it here.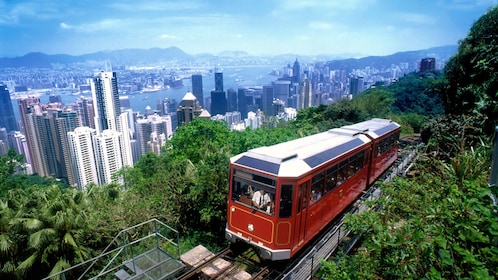 per adult
Free cancellation
Book
Peak Tram Historical Gallery
Getting to the summit via a scenic seven-minute ride on the historic Peak Tram – built in 1888 – is an enjoyable experience in itself.
You could also visit The Peak Tram Historical Gallery which has more than 200 memorabilia exhibited. Divided into 15 theme sections, it shows Hong Kong life of the 19th and 20th centuries. The Peak Tram has served Hong Kong since 1888 and many years have been spent in collecting memorabilia from all over the world and planning the gallery. The gallery features a replica of the first generation Peak Tram carriage and the 1926 Haulage Room is recreated which was responsible for pulling the trams up and down the Peak for over 60 years.
Opening Hours: Mon - Sun & Public Holidays 07:00 – 24:00
Location: Peak Tram lower terminus
Tel: +852 2522 0922
Price Range: Free to tram users.
The Peak Tower and Sky Terrace 428
Hong Kong's number one tourist draw, erected on Victoria Peak at 396 metres above sea level, The Peak Tower is one of the most stylish architectural icons in Hong Kong. With an avant-garde design, the spectacular tower has been featured in millions of photographs and postcards across the world.
Inside The Peak Tower, there is a dazzling array of restaurants, shops and an entertainment venue set against the backdrop of the city and the islands that dot the sea to the south.
The Sky Terrace 428 is located on the top floor of The Peak Tower. Open from 10:00 to 23:00 daily, the views of Hong Kong Island, Kowloon and the New Territories. This is a must-do in Hong Kong.
Opening Hours: Mon - Fri 10:00 – 23:00, Sat - Sun & Public Holidays 08:00 – 23:00
Location: At Victoria Gap, directly connected to the city centre by The Peak Tram, running between the Peak and The Peak Tram Terminus on Garden Road, just a short stroll from the Central MTR Station.
Tel: +852 2849 0668
The Peak
Opening Hours: Mon - Fri 10:00 – 23:00, Sat - Sun & Public Holidays 08:00 – 23:00
Tel: +852 2849 0668 (The Peak Tower), +852 2522 0922 (The Peak Tram), +852 2849 4113 (The Peak Galleria)
Rate This Place:
( votes)