Travelling by ferry between Hong Kong and Macau is a very popular activity, and adds an interesting new dimension to your stay. Hong Kong and Macau sit 60km apart, on either sides of the Pearl River Delta. Despite their close proximity, the two states have some interesting differences.
The Portuguese relics left over from the colonial days of Macau are in stark contrast the British architecture and culture of Hong Kong. Plus, Macau has many casinos (which are not allowed in Hong Kong). Gambling really put Macau on the tourist map, but they have tried hard to create family-friendly attractions too, such as water parks, shopping districts and night-time entertainment.
It is very easy to travel between Hong Kong and Macau. Some people choose to do a day trip, while others might spend a night or two on the opposite side of the river delta. The emergence of Macau as a popular tourist destination in its own right means that there is so much to see and do nowadays…just don't forget your passport!
Interested in this tour? Book it here.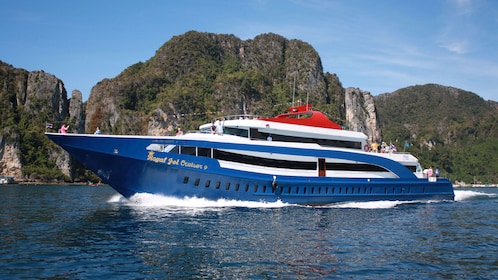 per traveler
Free cancellation
Book
Important Information when taking the Hong Kong-Macau Ferry
There are three main ferry terminals in Hong Kong:
Sheung Wan: Shun Tak Centre, Hong Kong–Macau Ferry Terminal, 202 Connaught Road Central, Sheung Wan MTR Station (Exit D). Ferries sail from here every 15 minutes between 07:00 and 24:00, then every hour.
Kowloon: Kowloon Hong Kong-China Ferry Terminal, 33 Canton Road, Tsim Sha Tsui MTR Station (Exit A1). Ferries sail from here every 30-45 minutes.
Hong Kong International Airport: Hong Kong SkyPier, 3 Sky City Road East, Hong Kong International Airport, Lantau Island. Ferries sail from here every hour.
There are two main ferry companies operating the Hong Kong-Macau route, both of which take just under one hour. The Turbo Jet ferries are slightly faster. A full timetable can be found on each company's homepage.
Turbo Jet: https://www.turbojet.com.hk/en/ticketing/sailing-schedule-fares.aspx
Cotai Water Jet: http://www.cotaiwaterjet.com/ferry-schedule/hongkong-macau-taipa.html
Tickets start from HK$165 for a one-way economy ticket.
There are three types of seat on most Hong Kong-Macau ferries: Economy, Super and VIP (Price list available on their homepages).
Each passenger is allowed one piece of carry-on luggage up to 20kg. Additional luggage is charged.
It is recommended to book in advance, particularly on weekends and holidays.
If you are prone to sea-sickness, consider purchasing some medicine before you board the ferry.
Note that it is vital you bring your passport as you will need a visa to enter Macau. If you already have a visa for Hong Kong, it is easy to enter Macau. Additionally, if you are an EU, US or Canadian citizen, it is straightforward as you will be given an on-the-spot tourist entry visa regardless. The currency for Macau is the Macau Pataca but Hong Kong dollars are accepted everywhere. Most shops, hotels and restaurants also accept Chinese Yuan.
Pushed for time? Take a Helicopter from Hong Kong to Macau
If you are severely pressed for time or for those who want to enjoy something extra special, there is also the option of taking a helicopter between Hong Kong and Macau. It costs around HK$3,000 per passenger. It takes off and lands on top of the ferry terminals.
Ferry Terminals in Macau
There are two main ferry terminals in Macau:
Cotai Terminal, Taipa, Macau
This ferry terminal is located near the famous Cotai Strip area and Macau International Airport. To go to Cotai Terminal, take the Cotai Jet from any of the three Hong Kong terminals. There are late-night returns (after midnight) from the Cotai Terminal to the Hong Kong Macau Terminal in Sheung Wan.
Macau Maritime Ferry Terminal, Av. Da Amizade, Macau
This is the northern terminal used by Turbo Jet. You can take Bus 3 from San Ma Lo to the Macau Ferry Terminal in about 10 minutes for HK$3.
Rate This Place:
( votes)