Central is the epicentre of Hong Kong. This is where you will find many of the finance companies head offices but also cultural attractions dating back to Hong Kong's colonial era, and certainly the island's busiest streets. If you want a true Hong Kong experience then you simply must spend time in Central.
The gleaming steel and glass skyscrapers of HSBC, Bank of China and the towering International Finance Centre (IFC) will no doubt catch your eye first, but as you spend time in Central Hong Kong you will find it is packed with interesting things to see and do – both charmingly old and brand new. Nowhere are the contradictions of Hong Kong better seen and felt than in Central. Find the 10 Best Attractions in Central below.
Interested in this tour? Book it here.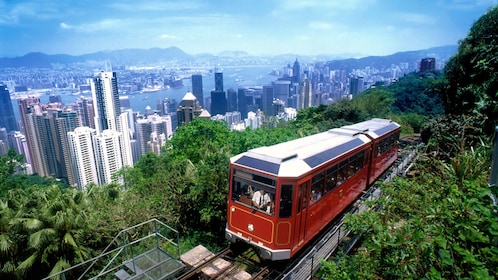 per adult
Free cancellation
Book
Hong Kong isn't short of high vantage points, but Victoria Peak is the best of them all, offering unrivalled views of Hong Kong, Harbour Bay and Kowloon on the opposite side. At any time of day or night, it is truly one of the most memorable vistas in the world. Known locally as The Peak, visitors can reach the top by taxi, a hike or by the Peak Tram which leaves from The Peak Tram Terminus in Central. At the summit of the peak there is a stylish collection of restaurants, gift shops and attractions such as Madame Tussauds wax works, a 3D trick eye art gallery and a museum devoted to the history of the peak as a tourist attraction.
Read More...
Location: Mid Levels, Hong Kong
Tel: +852 2849 0668 (The Peak Tower), +852 2522 0922 (The Peak Tram), +852 2849 4113 (The Peak Galleria)
Lan Kwai Fong (LKF) is a hotbed of after-dark activity, with a dizzying array of bars, restaurants and clubs. Located just a couple of minutes from Central MTR Station, you will find the party starts around sunset on Lan Kwai Fong with many expats enjoying a few after work beers or a friendly dinner, but numbers swell as the night goes on until it turns into a full on street party after midnight. With over 100 establishments to choose from, try not to stay in the same place too long, and remember that in LFK there are lots of bars located in many of the tall buildings stretching 20-or-more floors high. Read More...
With subways, bridges and tunnels now connecting Hong Kong Island with Kowloon, there is no real need to take the Star Ferry Crossing across the Victoria Harbour, and yet it is one of the finest attractions in Hong Kong for getting a sense of the living history that is present in Hong Kong even today. Founded in 1888, there are actually two crossings across the bay, but the most popular is from Central Ferry Pier to Kowloon. It takes around five minutes and costs HK$2.50 on weekdays and HK$3.40 on weekends and public holidays for adults and HK$1.50-2.10 for children. Ferries leave every 10-15 minutes depending on the time of day. Read More...
Taking inspiration from London, Singapore and other world cities, the Hong Kong Observation Wheel is a popular attraction overlooking Central Ferry Pier and IFC Shopping Mall with many glass skyscrapers surrounding it. The Ferris wheel is 60 metres high and is open from 10:00 to 23:00 every day, although it's best experienced at night time, especially during the Symphony of Lights between 20:00 and 20:15. The 42 air-conditioned cabins hold up to 10 people. The ride takes 20 minutes and costs HK$100 for adults and HK$70 for single tickets, while a VIP cabin can be booked from HK$1,500. Read More...
Opening Hours: 10:00 - 23:00 daily
Location: Central Hong Kong, in front of the Central Ferry Terminal
Price Range: HK$100 for adults, HK$ 70 for children
This cultural attraction connected to Central Ferry Pier might not look much from the outside, but hidden within is a fascinating catalogue of the maritime history of Hong Kong with a wealth of information. The entire museum was renovated in 2013 so the exhibits feel fresh and informative, with sections ranging from the days of primitive fishing in the Pearl Delta, through the days of piracy in the seventeenth century, right up to the modern ports of today. Hong Kong Maritime Museum is open from 09:30 to 17:30 on weekdays and 10:00 to 19:00 on weekends and public holidays. Read More...
Opening Hours: 09:30 - 17:30
Location: Central Ferry Pier, Central, Hong Kong
Tel: +852 3713 2500
6
Central Mid-levels Escalators
An escalator seems a strange tourist attraction, but this energy saving set of moving steps is world-record holding for several reasons: it runs a total distance of 800 metres and elevates over 135 metres from Des Voux Road Central, south of Central MTR Station, right up to Conduit Road in an area called the Mid-Levels. Together this interlinked escalator system is officially 'the longest outdoor, covered escalator system in the world'. Built up on either side with shops, restaurants and bars, anyone intent on exploring this area will no doubt be thankful for this easy way to travel up and down the steep (and, at times, very steep) hills that make up Central.
7
Hong Kong Zoo and Botanical Gardens
Hong Kong Zoo and Botanical Gardens is located quite high up the hill in Central, with its highest point being 100 metres above sea level. It is a steep environment for a zoo and garden but those who put in the effort will be rewarded with exhibits of a variety of furry friends, including Bornean Orang-utans, Gibbons, Lemurs, and a host of other primates. There's also a large aviary with lots of colourful and chirpy birds, and some giant (and lazy) tortoises. Access is from 09:00 to 16:30 for the main exhibits and it's free.
Opening Hours: 09:30 - 16:30
Location: Albany Road
Built in 1847 and filled with incense coil and lanterns, this beautifully preserved temple on the western edge of Central is an interesting sensory experience thanks to the smell of incense and the lingering smoke. It gives Man Mo Temple an atmospheric and timeless quality that reflects sharply with Central business district, just 10 minutes down the slope. Man Mo actually reveres two deities: Man, the God of Literature, and Mo, the God of War. You can walk from Sheung Wan or Central MTR Station, although we highly recommend taking the Mid-Level Escalator to Hollywood Road. Read More...
Opening Hours: Daily 08:00 – 18:00
Address: 126 Hollywood Rd, Sheung Wan, Hong Kong
Tel: +852 2540 0350
Hong Kong Park offers a welcome break from the mass of glass and steel that makes up downtown Central. It has an aviary, water features, a charming tea shop and tea museum within its rounds so there are a few different things to see and everything is free. Children will love the fish in the water features and the turtles and terrapins warming themselves on the rocks, while parents can refuel at L16 restaurant. Come in the early morning if you want to see local Hong Kongese practicing Tai Chi. Hong Kong Park is open from 06:00 to 23:00 daily.
Opening Hours: 06:00 - 23:00
Location: 19 Cotton Tree Dr, Hong Kong
Hong Kong City Hall houses a theatre and several concert halls, making it one of the finest places for cultural performances in Hong Kong. There are occasionally world renowned artists playing here, although mostly it will be local affairs with concerts, classical music recitals, and western and Cantonese theatrical reproductions. You can check the full events calendar at the Hong Kong City Hall website. It is located adjacent to Central MRT on the waterfront.
Location: 5 Edinburgh Pl, Hong Kong
Tel: +852 2921 2840
Rate This Place:
( votes)