Hong Kong has one of the most incredible skylines in the world; sweeping panoramas have been the scene of many a movie and even return visitors can get that rush when seeing Hong Kong again. We have compiled a list of panoramic views for you to enjoy, scattered throughout Hong Kong Island and the whole territory. Of course, Hong Kong is more than just the urbanised northern shore and we have tried to reflect that in our choice of panoramic views. Here you will find verdant mountain scenes on Lantau Island, sandy bays in secluded Sai Kung… but we couldn't resist a few rooftop vistas around Central and across the harbour in Kowloon.
Some of these viewpoints in Hong Kong are free; others require an entry fee or expect you to purchase a drink if you intend to enjoy the view. Pleasingly, most places are absolutely fine with photography. You can find even more stunning locations in our best rooftop bars in Hong Kong page.
Interested in this tour? Book it here.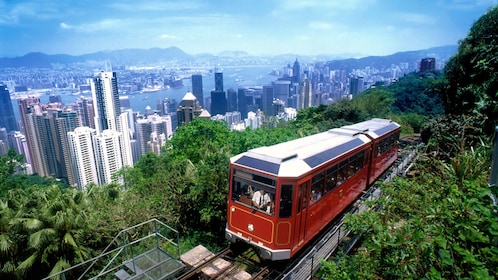 per adult
Free cancellation
Book
The Peak is legendary in Hong Kong as the premier viewpoint for witnessing the awesome sight of Victoria Harbour, with the densely packed areas of Hong Kong's northern coast on one side and the equally crammed Kowloon coast on the other.
The best vista is from the panoramic viewing platform called Sky Terrace 428 (due to its height above sea level) which offers 360-degree views. Located on the very top of The Peak, this vantage point really highlights the density of the countless skyscrapers shooting up into the sky on Hong Kong Island. Read More...
Opening Hours: Mon - Fri 10:00 – 23:00, Sat, Sun & Public Holidays 08:00 – 23:00
Location: At Victoria Gap, directly connected to the city centre by The Peak Tram, running between the Peak and The Peak Tram Terminus on Garden Road, just a short stroll from the Central MTR Station.
Price Range: HK$83 for adults; HK$40 for children (includes a return journey on the Sky Tram)
2
Tai Long Wan Hiking Trail
New Territories
Quite off the beaten track for most visitors, part of the reason Tai Long Wan Trail has kept its raw natural beauty is because of its hard-to-find location in Sai Kung on the eastern tip of the New Territories. This 12 km mountain trail takes you past clear waters, authentic fishing villages and deserted sandy coves. There's also a waterfall to enjoy – a popular place for cliff jumping.
To reach Tai Long Wan it requires a minimum 1.5-hour hike, although it takes up to six hours to complete the whole trail. For a more leisurely way to witness the stunning natural beauty of Hong Kong, consider a speedboat from Sai Kung town. It should cost around HK$1,000. Reach the trail by taking the MTR to Diamond Hill, a 40-minute bus to Sai Kung Town, then the village bus to Sai Wan Ting.
Sky 100 Observation Deck is a viewpoint on the 100th floor of Hong Kong's tallest building, the International Commerce Centre (ICC). Although it is fully indoors, you will be treated to a thoroughly incredible 360-degree panoramic views of the Hong Kong skyline, Kowloon and the sprawling suburbs of the New Territories and beyond. On a clear day you can even see all the way to China! Sky 100 viewpoint at International Commerce Centre is located in Kowloon, built above Elements Shopping Mall and Kowloon MTR Station Read More...
Opening Hours: 10:00 - 21:00 (22:00 on Fridays and Saturdays)
MRT: Kowloon
Address: 100th floor International Commerce Centre, 1 Austin Road, Kowloon
Tel: +852 2613 3888
Price Range: HK$168 for adults, HK$106 for seniors and children 11-years-old or under
This is one of the most popular natural vistas in Hong Kong, located in Shek-O Country Park on the southern coast of Hong Kong Island. The fact that it is convenient and close to Stanley on the southern coast of Hong Kong Island make this a weekenders' favourite for escaping the congestion in downtown Hong Kong and enjoying some stunning natural panoramic scenes. It's also a popular spot for paragliders. The reason it's called Dragon's Back Trail will become apparent when you walk along the steep sided trail that flows down to the ocean with villages tucked neatly into the sides of the hills. Find Shek-O Country Park by taking the bus from outside Chai Wan MTR. Read More...
This lavish Kowloon cocktail spot is comprised of two spaces; a luxurious restaurant on the 29th floor and an equally as lavish bar just above. There's no outdoors terrace, but the breath-taking floor-to-ceiling windows slant at an angle across the entire length of the venue, making for an incredible frame to Hong Kong's skyline across the water. This is a particularly good spot to enjoy the Symphony of Lights which takes place every night at 20:00. Read More...
Opening Hours: Lunch: Mon - Fri 12:00 - 14:30; Dinner: Mon - Sun 18:00 - 23:00
Aqua Spirit: Mon - Sun 16:00 - 02:00
MRT: Tsim Sha Tsui
Address: Level 29 + 30F, One Peking Tsim Sha Tsui, Hong Kong
Tel: +852 3427 2288
How to get there: Find Aqua Spirit Hong Kong by taking the MTR to East Tsim Sha Tsui Station. Exit at L5 and the One Peking building is just a short walk from there.
Central Hong Kong is not short of viewpoints but trying to find a free-of-charge open-air spot to relax and soak up the atmosphere is decidedly more difficult. That's why the Roof Garden at IFC Shopping Mall is such a great find. Despite its modest height, you can get some interesting sights of the harbour and the many skyscrapers that shoot into the sky on every side. Read More...
Opening Hours: Daily 10:00 - 22:00
Address: 8 Finance Street Central District, Hong Kong
Tel: +852 2295 3308
Price Range: Free
7
Hong Kong Monetary Authority View Point
Central Hong Kong
There is a free-of-charge Hong Kong viewpoint on the 55th floor of IFC Tower 2. This is the tallest building on Hong Kong Island and the second tallest in all of Hong Kong (the International Commerce Centre on the opposite side of the harbour has held the crown since 2011). The observation area belongs to the Hong Kong Monetary Authority and anyone is allowed to go in during office hours until 20:00, meaning you can catch the sunset here for absolutely free. Remember to bring ID in order to get a Guest Pass into the office building. IFC Tower is located directly above Hong Kong MTR Station.
Opening Hours: 09:00 - 20:00
Location: IFC Tower 2, Central Hong Kong
Address: IFC Tower 2, Central Hong Kong
Tel: +852 2295 3308
Price Range: Free
8
Central Plaza Sky Level 46th floor
Wan Chai
Central Plaza in Wan Chai was formerly the tallest building in Hong Kong. Some now regard this famous building as an icon of Hong Kong's past – although others say it's an eyesore. Either way, this tower of commerce offers free views over downtown Hong Kong, so it's still fine by us. From the first floor, take the express elevator to the 46th floor. Alternatively, if you are in Hong Kong on Sunday you can head up to the 75th floor and attend mass at The Sky City Church (mass is held at 11:00 and 18:00 every Sunday).
Opening Hours: 09:00 - 20:00
Address: 18 Harbour Rd, Wan Chai, Hong Kong
Tel: +852 2586 8111
9
Lantau Peak
Lantau Island
Lantau Peak is the second highest spot throughout the entire Hong Kong territory so the views from here are nothing short of majestic, especially around sunrise! Most people who want to see dawn from the summit set off from Ngong Ping around 04:00 so this is one for the early birds. To reach Lantau Peak you can take the Ngong Ping cable car then walk to the top.
10
Bank of China Observation Deck – 43rd floor
Central Hong Kong
The Bank of China Building (BOC Tower) is a modern architectural masterpiece. Designed by I. M. Pei, it has been used in numerous films, including Transformers and Star Trek. But what many people don't know is the public viewing deck on the 43rd floor is free to use. Despite its small size, you can get some unique vantage points of the financial district from up here. Again, remember to bring ID otherwise you won't be allowed into the office building.
Opening Hours: 09:00 - 18:00
Location: 1 Garden Rd, Hong Kong
Tel: +852 2826 6888
Price Range: Free
Rate This Place:
( votes)